2/28/11
Irony:  Accused drunk driver crashes into DUI halfway "sober" house
Home appears to be similar to Johnson County's "residential center" or "work release" programs utilized by those convicted of driving under the influence in Johnson County District Court.
A DUI suspect crashed a sport utility vehicle into a South Los Angeles sober living home early Saturday.

The driver and a passenger were trapped in his Ford Explorer temporarily after the vehicle slammed into Watts Healthcare Corp. Inc. located at 8005 S. Figueroa Street just before 1:00am, officials said.

Once the two were rescued from inside the vehicle, they were taken to local hospitals along with four building residents, officials said.

According to officials, the driver may be held accountable for driving under the influence, though no more details have been made available at this time. 
Thanks to KTLA for the story
2/26/11
No one likes getting a ticket, but the process is about to get easier in Kansas City. Electronic ticketing is coming to KCPD this year. We anticipate that by September 2011, officers will begin issuing tickets from hand-held electronic devices. 

E-ticketing will be virtually paperless. Gone will be the days of triplicate citations with sheets of carbon paper. Officers will soon have computers with small printers in their cars (or a hand-held version for officers such as motorcycle officers) to enter citation information. They will then print off a receipt-like ticket for the violator. The computer already will have transferred the citation information to the police department and to Municipal Court. These devices will increase our officers' efficiency and allow them more time to focus on serious crime problems in our community.

Further advancements also will include completely electronic municipal court rooms and less-cumbersome ways to pay fines. I'll continue to update you on the progress of this project as we move closer to implementing this new technology.
Thanks to Chief Corwin's blog for the story
2/25/11
Overland Park Police Department to focus traffic patrols on "high traffic" areas, write hundreds of speeding and traffic tickets
Metcalf and other "hot spots" with significant numbers of auto accidents will be saturated by police looking for speeders, aggressive drivers, distracted drivers, etc.
OVERLAND PARK, Kan. -- Overland Park police have turned their attention to Metcalf Avenue and other spots in the city where they are concerned with the high number of accidents.
Officers said the accidents are caused by drivers simply not following traffic laws and have decided to make their presence more known in those heavy accident areas in an effort to reduce the number of accidents.
VIDEO: OP Cracks Down On Dangerous Drivers
More than two dozen officers will be focusing on the parts of Overland Park they say have the highest accidents. Those areas include the stretch of Metcalf from 75th Street to 151st Street and on College Boulevard from Westgate Road to Metcalf.
Officers said they will be ticketing drivers for everything from following too closely and driving too aggressively to not wearing seat belts. Officers will be saturating the area from 10 a.m. to 6 p.m. Tuesday and many other days in the coming month.
Police said their presence is important so that drivers think about their driving at all time. They said that will lead to safer streets in the city.
Thanks to KCTV5 for the story
2/24/11
Kansas House advances bill on fleeing the scene of an accident
TOPEKA — Legislation sought by family members of hit-and-run victims in Lawrence was advanced by the House on a voice vote Tuesday.

A final vote on House Bill 2044 is expected today.

If enacted, a person with a prior driving offense who flees an accident in which a serious injury or death occurs would most likely face prison time.

The bill was supported in committee by Ryan Crum, whose father, Thomas Crum, was killed in a hit-and-run accident in 2008; the family of Rachel Leek, who was hit and killed in 2009 while riding her bicycle; and Michael Kanost, whose son Ryan was killed in 2006 while a student at Kansas University.
Kansas criminal and traffic laws are constantly in flux.  Our attorneys strive to stay up to date on changes to the law and would be happy to answer any questions about your legal needs.  Please contact one of our Johnson County attorneys today.
Go to LJWorld.com for more of the story. 
2/24/11
Man arrested for DUI after returning to scene of fatal auto accident based on his insurance company's advice
Police allege that the driver was driving under the influence of alcohol, even though he blew under the .08 limit on the breath test machine
I'm not sure where to even start on this one.  The first issue I see is that the driver's insurance company, by directing him to return to the scene of the accident, subjected him to a tremendous amount of criminal liability that he likely wouldn't have faced if he had not returned. The second issue is that the driver's breath test was under .08.
Johnson County, KS prosecutors regularly charge people for DUI even when they register a blood, breath, or urine sample under the legal limit of .08.  This drives our Olathe law firm's DUI lawyers mad.  If society is going to make .08 a strict liability crime, with no evidence of impaired driving needed to secure a conviction, then a blood breath or urine result under .08 should be presumptive evidence that the person is not driving under the influence.  Johnson County police officers and prosecutors do not follow this logic however.  Police officers in Olathe, Overland Park, Shawnee, Mission, and elsewhere regularly arrest people for driving under the influence of alcohol, even after the give a breath test of less than .08 on the Intoxilyzer 8000 machine.
Our Johnson County DUI defense firm's lawyers regularly set these cases for trial, and **knock on wood** we have never lost one of these cases.  Call us if you or someone you know blows under .08, but is still charged with drunk driving.
The second issue in this case involves the insurance company directing their insured driver to return to the scene.  This action led to the driver being charged with felony driving under the influence which, if convicted, could dramatically affect his life.  It is highly likely that the driver would not have been charged if he had not returned to the scene.  This brings up the possibility of a "bad faith" claim against the man's auto insurance company for subjecting him to criminal liability.  Kansas and Missouri laws require insurance companies to look after their insured's interests, even when the interests stretch beyond the financial aspects of the case.  Additionally the man could now be subjected to punitive damages which are per se allowed in Kansas and Missouri automobile wrongful death and personal injury cases. Punitive damages can easily stretch past the economic and non-economic damages in a personal injury or wrongful death case.
A San Bruno man accused in a deadly hit-and-run accident on a Pacifica highway on Sunday allegedly returned to the crash scene on the advice of his insurance company, according to San Mateo County prosecutors.
Leopoldo Tobilla, 57, was arrested after driving up to cops at Sharp Park Road and Skyline Boulevard and admitting to hitting someone walking in the roadway, police said.

At the time, Pacifica police and the California Highway Patrol were investigating the 1:35 a.m. crash that killed 25-year-old Scott Garrigan.

Tobilla was driving southbound on state Highway 35 when he allegedly struck Garrigan, who was crossing the street but not in a crosswalk.

Tobilla allegedly fled the scene. He then "called his insurance company, who told him to return to the scene," according to District Attorney Steve Wagstaffe.

On Tuesday, Tobilla pleaded not guilty to felony hit-and-run and driving under the influence, Wagstaffe said.
His blood-alcohol level registered 0.06. The legal limit is 0.08.

Police concluded the victim caused the accident, so Tobilla was not charged with vehicular manslaughter, Wagstaffe said.

The case is set for a preliminary hearing May 5.

Tobilla is out of custody after posting $50,000 bail.
2/23/11
Fla. Ice Cream Truck Driver Charged With DUI
If you have any questions regarding a Johnson County, Kansas DUI, please contact one of our Johnson County Kansas Attorneys.  These attorneys have experience handling unique driving under the influence charges.    
NEW PORT RICHEY, Fla. -- Police say a Tampa Bay-area ice cream man was driving his truck while drunk when he almost hit a child.
The Pasco County Sheriff's Office reports that 49-year-old Ronald Clifford Purdy was pulled over Monday afternoon after someone called 911 to report his driving.
Deputies say Purdy staggered out of the ice cream truck in New Port Richey and gave his birthday when he was asked for his address. The deputies also reported finding two open bottles of whiskey.
A report lists Purdy's blood alcohol content at 0.227 percent, nearly three times the legal limit for drivers.
Purdy has been charged with DUI and was released on his own recognizance.
A telephone message left at a listing for Purdy was not immediately returned.
Thanks to KCTV5 for the story.
2/21/11
Police arrest 17 for DUI at KC checkpoint
Police nabbed 17 motorists for driving under the influence at a sobriety checkpoint late Friday and into today in south Kansas City.

They also arrested one driver for possessing a firearm while intoxicated.

Nearly 500 vehicles were stopped at the checkpoint that ran from 11 p.m. Friday until 4 a.m. today at 7712 Wornall Road.

The haul also included one driver for resisting arrest, two with suspended or revoked licenses and three for warrant violations.

Jackson County sheriff's deputies assisted Kansas City police. 
Our Johnson County Kansas Attorneys have experience handling DUIs stemming from "checkpoints," which are often also referred to as "checklanes."  These particular DUIs involve unique aspects of the law, especially since the driving under the influence arrests are made without the arresting officer observing any driving indicative of someone operating a vehicle while intoxicated. 
In light of the unique circumstances when evaluating checkpoint cases, Kansas has established a number of factors to determine whether checkpoints past Constitutional muster. In Deskins, this Court set forth several factors to consider in determining the validity of such check lanes: 
(1) The degree of discretion, if any, left to the officer in the field; (2) the location designated for the roadblock; (3) the time and duration of the roadblock; (4) standards set by superior officers; (5) advance notice to the public at large; (6) advance warning to the individual approaching motorist; (7) maintenance of safety conditions; (8) degree of fear or anxiety generated by the mode of operation; (9) average length of time each motorist is detained; (10) physical factors surrounding the location, type and method of operation; (11) the availability of less intrusive methods for combating the problem; (12) the degree of effectiveness of the procedure; and (13) any other relevant circumstances which might bear upon the test.
State v. Jackson, 24 Kan. App. 2d 38, 40, 942 P.2d 640 (1997) (quoting Deskins, 234 Kan. at 541).  
Read more at the Kansas City Star's website.  
 2/17/11
City caught using deceased police officer to "sign" thousands of red light tickets issued to drivers at camera equipped intersections
Law required a police officer to review each proposed ticket - clearly the city was not complying with the law and simply "policing for dollars."
The traffic lawyers in our Johnson County traffic law firm strongly believe that policing should NOT be "entrepreneurial," meaning that traffic enforcement should be geared towards preventing auto accidents, especially accidents likely to cause serious injuries or deaths, such as intersection collisions, rollover accidents, and heavy truck collisions.  This story shows what happens when cities become more worried about revenue from traffic tickets than public safety.
Getting pulled over and ticketed by law enforcement makes for a bad day, and we're quite certain the feeling is amplified when the citation comes in the mail days after the infraction occurs. There's no surprise, then, that most drivers can't stand traffic cams, and in many cases, the ticketed fight the infractions tooth and nail. In the city of Baltimore, MD, there are 2,000 ticketed motorists who may have a solid case.

WBAL-TV 11 reports that a police officer who tragically died in a car accident 'signed' those 2,000 tickets months after he passed away. That's a big problem, because each red light camera citation is supposed to be reviewed by an officer of the law before getting sent out. City officials claim that the residents received the wrong notice, and that the tickets were in fact properly reviewed before being issued. We're guessing that those ticketed won't buy that explanation and the courts in Baltimore will be quite busy for the next few months.
Thanks to AUTOBLOG for the story!
2/16/11
Bill Could Bring Major Changes To Kansas DUI Laws
A new Kansas law would increase fines and jail time, add a new classification called aggravated DUI and create consistency when it comes to sentencing. It's something lawmakers say 45 other states have already accomplished.

"We need to do something to make our roads safer," said Rep. Aaron Jack, (R) Andover, who is co-sponsoring the bill.

"The reality is, we can do much better than we've done to this point," said Rep. Lance Kinzer, (R), who is also co-sponsoring the bill.

DUI laws in Kansas could be in a for a major overhaul and lawmakers are looking to other states for help.

"This isn't a radical approach to DUI, there's 45 other states that currently have something similar to what we're proposing," said Jack.

That new proposal would increase fines to $500, $1,000 and $1,500 each time a repeat offender is caught, as well as up minimum sentences. Lawmakers hope this would create consistency in penalties and help prevent deadly accidents.

"The system with respect to dealing with DUI is confusing. It breeds inconsistency that does not treat every person the same way," said Kinzer.

The bill would also create a penalty classified as aggravated DUI, which could be anything from someone driving impaired with a minor to being caught on a suspended license.

Another major change would be the "impairment to the slightest degree" proposal. While the legal limit is 0.08, impairment can actually begin at 0.02. Under current law, a person who refuses to submit to testing places the burden on the state to prove they were impaired.

This would reverse the burden.

"Often for repeat offenders, it's in their best interest to refuse testing. By changing that testing, but now by shifting the burden to the slightest degree, it's in their best interest to submit to testing," said Jack.

Lawmakers said the biggest challenge will most likely surround finding the resources to handle the increased penalties, but they said they hope to get as much support as possible.

"I would hope it would give legislators something concrete to look at," said Kinzer.

The bill is slated for hearings in the judiciary committee on Monday, February 16th at 3:30 p.m.

Our Johnson County law firm's lawyers will be able to help individuals that are charged with driving under the influence navigate through these potentially substantial changes to the driving under the influence statutes in Kansas. 
Thanks to ABC's KAKE10 for the story.
2/16/11
Wrongful death lawsuit alleges that cell phone facebooking caused fatal car crash 
Texting, cell phone use, checking email, etc. are all considered "distracted driving" and can cause serious personal injury accidents
Cell phone use, for talking, texting, or surfing the web is a hot topic in personal injury and wrongful death law.  Multiple studies have shown that a texting driver is much worse than a drunk driver, meaning that evidence of cell phone use is very valuable in an auto accident personal injury or wrongful death case.  Our Olathe firm's lawyers regularly request defendant driver's cell phone records in an effort to determine whether a cell phone was being used before, during, or after a car wreck.
CHICAGO (STMW) - The family of a pedestrian fatally struck by a vehicle on the South Side in December filed a wrongful death lawsuit against the motorist, claiming she was updating her Facebook page on a cell phone when the crash happened.
Motorist Araceli Beas was updating her Facebook page on her mobile phone while driving when she fatally struck pedestrian Raymond Veloz at 7:54 a.m. Dec. 7, 2010, at 9220 S. Ewing Ave., according to a suit filed in Cook County Circuit Court.
Veloz, 70, of the 8300 block of South Baker Avenue, was pronounced dead at 9:13 a.m. Dec. 7, 2010, at Advocate Christ Medical Center in Oak Lawn, according to the Cook County Medical Examiner's office.
The suit claims Veloz had exited his vehicle after getting into an accident with Allen Barbour. He was standing near Barbour's vehicle exchanging information when struck by Beas' vehicle, the suit said.
Police said two eastbound vehicles were involved in a minor accident and both drivers were exchanging information when a third eastbound vehicle fatally struck one of the motorists.
The drivers in both accidents told police the sun temporarily impaired their vision when the crashes happened, police News Affairs Officer Darryl Baety said.
The driver, identified in the lawsuit as Beas, was ticketed for striking a pedestrian in the roadway, Baety said.
The suit, filed by Veloz' daughter, Regina Cabrales, claims Beas didn't keep a proper lookout, drove while using an electronic communication device and failed to slow down to avoid an accident.
Beas could not immediately be reached for comment.
The two-count suit is seeking unspecified judgment against Beas.
Thanks to CBS Chicago for the story.
2/15/11
Suspect in hit-and-run auto accident fatality arrested in Kansas City, MO
Man allegedly hit a pedestrian in Henry County, Missouri
A suspect in a hit-and-run crash that killed a pedestrian in Henry County was found at a Kansas City motel Friday evening.
The Missouri Highway Patrol and Kansas City police arrested the 47-year-old Urich, Mo., man about 5:50 p.m. at the Sky-Vu motel, 8300 E. U.S. 40. He was arrested on suspicion of leaving the scene of a crash.
The arrest resulted from the investigation into the fatal crash on Feb. 9 where Michael Ham, 42, of Clinton, Mo., was struck and killed as he was walking along Missouri 7 just north of the Clinton, Mo.
Authorities also believe they found the car involved crash — a green 1994 Ford Taurus — in the 3000 block of Cleveland Avenue. The vehicle was partially disassembled and burned.
Additional parts of the car were found in the 3000 block of Monroe Avenue.
The suspect was taken to Henry County jail

Read more: http://www.kansascity.com/2011/02/14/2653787/fatal-hit-and-run-suspect-found.html#ixzz1DxY0MYBt
2/14/11
Two people injured on K-10 in Johnson County, Kansas in rear end collision
The motorists had stopped for reasons which are unclear
Our Olathe personal injury law firm has represented motorists injured (and the families of those killed) on highways in Johnson County and elsewhere in the Kansas City metro area.  Our Olathe law firm's personal injury attorneys have settled numerous cases for hundreds of thousands of dollars in compensation for past and future medical expenses, past and future lost wages, pain, suffering and other damages from Johnson County and Kansas City auto accidents.
Two people were injured Sunday evening in a rear-end collision after the car they were in stopped in a lane of traffic on Kansas 10.
Gaciela J. Schmidt, 67, of Lenexa and Gerard E. Schmidt, 75, of Olathe were taken to two separate hospitals for treatment of their injuries, according to the Kansas Highway Patrol.
The extent of their injuries from the auto collision was not immediately available this morning.
The collision occurred about 7:15 p.m. when Gaciela Schmidt stopped a 2002 Mercury Sable she was driving in the eastbound lanes of K-10 near Evening Star Road, just west of De Soto.
A 2001 Dodge Ram pickup, driving by Carl Austin Abram, 19, of Eudora, rear-ended the Sable.
Abram was not injured in the crash.
While the highway patrol investigated the crash, a second crash occurred on westbound K-10. The driver was uninjured. No further information was available early this morning on that crash.
2/14/11
Man busted for speeding after posting video of him speeding at 140 mph
Youtube video caught the police's attention which led to the man's arrest and driver's license suspension
Our Olathe traffic law firm's attorneys fix, amend, or divert hundreds of Olathe speeding, red light, stop sign, and other traffic tickets each year, however we have yet to deal with a ticket that resulted from a Defendant posting himself on Youtube.  Just a word of advice from your friendly Olathe traffic attorney - don't help the cops find you and convict you.
An Oregon man put his Mensa membership in jeopardy when police pulled him over for doing 118 mph Saturday in his 2005 BMW, only to discover he was trying to video a 140-mph run to post on YouTube. Thanks to his self-made evidence, Stanislav Bakanov spent Saturday in jail and had his video confiscated. It's all for the best; 140-mph runs in BMWs aren't that thrilling, as the video above shows.
(Reuters) - A man who filmed the speedometer of his car while driving more than 140 miles per hour so he could post it on YouTube, ended up in jail on Saturday and the video confiscated, police said.
Stanislav Vadimovich Bakanov was pulled over by police on Oregon Interstate 5 after he was clocked driving his black 2005 BMW at 118 mph. He filmed Sheriff's Deputy Ryan Postlewait as he approached the car.
When Postlewait asked why he was videotaping, Bakanov said he was filming his speedometer, and his arrest, to post on Youtube. The video later revealed that Bakanov had attained speeds in excess of 140 mph.
He was arrested and confined in Marion County jail Saturday night, charged with reckless driving and speeding. It was his third speeding incident in the past year. The video was confiscated and will be used as evidence against him.
Marion County Police spokesman Don Thompson said winds were gusting at up to 50 mph during the day.
"There were tree branches down on the freeway. To be driving at these speeds today was just plain crazy," he said.
Thanks to reutersfor the story.
2/13/11
Alleged drunk driver drags police officer though a service station
Defendant was found hiding in a culvert after ditching his vehicle
After a Frankfort, Ky., police officer pulled over a black Chevy pickup on suspicion of driving while intoxicated Friday, the driver decided to flee the interview — briefly dragging the officer through a gas station. Russell Wheat, 49, was arrested after ditching his truck and hiding in a culvert. He plead not guilty Monday to several charges; the officer suffered only minor injuries.
Thanks to 
2/12/11
Overland Park, KS police identify man killed in accident on 69 highway in Overland Park
Police this morning identified a 27-year-old man who died from injuries suffered in a crash early this morning in Overland Park.
Francis D. Sommer of Overland Park was headed south on U.S. 69 about 1:55 a.m. when he lost control of his 2003 Volkswagen just south of College Boulevard. He traveled down the outside shoulder and struck a pole.
He suffered critical injuries and later died at a hospital.
2/11/11
Benjamin Denham killed two friends driving drunk and lives with remorse, along with severe scars from burns he suffered in the fiery crash.
And for many years, he can think about it all in prison.
Johnson County Judge John P. Bennett today sentenced the Olathe teen to almost nine years for the deadly Overland Park accident.
His blood-alcohol level was almost twice the legal limit and he was speeding over 100 miles an hour on March 16, when he lost control of the Cadillac near West 151st Street and Metcalf Avenue.
The driver's vehicle struck a power pole, clipped a garage, rolled and burst into flames. A man pulled Denham from the car and saved his life.
His friends, Matthew T. Honea, 18, and Andrew Riddell, 17, both of Olathe, died in the wreck. Their bodies were so burned it took days to identify them.
Jill Kenney, assistant prosecutor, asked for consecutive sentences up to a maximum of 112 months, more than nine years.
She noted that Denham, 19, had previously driven drunk, hit a parked car and left the scene.
There should be no mercy for him, she said. "The grace that has been extended to Benjamin Denham is that he is alive today."
Defense attorney Jerry Wallentine said his client insisted on pleading guilty, with no plea deal, to two counts of involuntary manslaughter. He said Denham is full of remorse for his friends' deaths.
"He didn't even want me to put forth a defense. He said, 'I own this, I'm going to take responsibility for this.' "
Wallentine asked for a sentence of no more than 69 months, less than six years.
Denham told the judge: "Going to prison is going to be small pain compared to this pain I carry."
He said he was sorry, and "I realize how small the words are."
Dan Riddell, father of Andrew, told the judge, "If he does not get the maximum, what more do you have to do to get the maximum?"
He cried as he told about his son and how the death devastated the family.
"He was my son. He was my buddy. He was my baby," his father said.
Joe Honea, father of Matthew, noted that all the teens were good friends and he forgives Denham.
"And if Matthew could speak from the grave, he'd say, 'I forgive you, too, Ben.' That's just how Matthew was...," his father said.
Honea said he was seeking leniency for Denham but even the maximum sentence is lenient.
Bob Denham spoke for his son, who he said is full of guilt, has endured multiple surgeries and will live with severe scars.
"He believes his scars can be used to warn other kids," his father said.
He hopes, he said, that when his son gets out of prison, all three families can work together to save other families from what they went through.
Judge Bennett made sentences consecutive for an overall sentence of 107 months, almost nine years.
Two lives were lost, the judge said, and there should be punishment for each.
2/10/11
Missouri man walking on highway killed by a hit-and-run driver on Highway 7 in Missouri
The highway patrol is looking for the vehicle which struck and killed the man
Hit and run accident present a number of problems for the victims involved.  First, they must deal with their injuries, recovery, disability, and other complications from the auto crash.  Then they must deal with the inevitable question of "who will pay" for my injuries.  Our law firm's personal injury and wrongful death lawyers have experience dealing with these situations and can often make claims on a driver's own uninsured or underinsurance policies in an effort to pay for medical bills, lost wages, and disabilities.  Kansas and Missouri require that these coverages be included in auto insurance policies (although they may be removed by motorists).
CLINTON | A pedestrian has been killed in a hit-and-run crash. The Missouri State Highway Patrol identified the victim as 42-year-old Michael Ham of Clinton.
Ham was struck Wednesday night as he was walking along Missouri 7 in Henry County.
Investigators believe the vehicle involved in the crash may be a 1992 to 1995 teal or dark green Ford Taurus that was traveling southbound.
The patrol says it will have damage to its passenger-side headlight assembly and windshield.
The patrol is asking the public for help locating the vehicle.
2/9/11
f you got caught in this morning's mess of a commute, you'll be happy to hear that traffic has settled down this afternoon.
The Kansas City Scout system recorded 90 incidents — primarily crashes and slide-offs — on major roadways between 6 and 10 a.m., when a light, powdery snow made roads slick. Traffic slowed to a crawl and in some cases came to a halt.
"I think it has settled down now that the temp and the surface temp have risen," said Rusty James, incident management coordinator for Kansas City Scout.
That has allowed the chemicals to start to work on the roads, eliminating some of the slick spots.
At the height of the rush hour, southbound Interstate 35 in the Northland was closed after a northbound driver lost control and crossed under the median guard cables into southbound traffic.
The crash occurred about 7:50 a.m. near Chouteau Trafficway when Jariya Niyakorn, 33, of Kansas City lost control of her 2003 Honda Accord on the snow-covered highway, according to the Missouri Highway Patrol.
She ran into the median and her car went under the guard cables and into the southbound lanes of traffic, where she struck a 2004 Ford Taurus driven by Carol A. Armstrong, 45, of Cameron, Mo.
Armstrong's car then spun and struck a 2008 Chevrolet Malibu driven by Renee L. Caughron, 39, of Kansas City.
Both Niyakorn's and Armstrong's cars were extensively damaged. Armstrong was the only one injured in the crash. She was taken to a hospital for treatment of minor injuries.
All three drivers were wearing seatbelts. The crash was cleared about 8:50 a.m.
On the Kansas side, a Kansas Highway Patrol trooper's car was struck on Interstate 70. The trooper was not injured. The highway patrol reported that in every snow event in Kansas City this season, a patrol car has been hit.
Despite all the crashes and slide-offs, James said he didn't know of anything that was major. There was a lot of property damage, though.
"I believe that this evening's rush hour should be better," he said. "People are cognizant of the possibility of slick spots. I think we will see reduced speeds."
Crews also have been working on both sides of the state line treating problem areas.
2/8/11
The Eleventh Circuit US Court of Appeals on Tuesday saw no problem with jailing a man for eight hours after he blew .03 on a breathalyzer -- far below the legal limit. Santa Rosa County, Florida sheriff's deputies had arrested Roger A. Festa on the charge of driving under the influence of alcohol (DUI) on April 9, 2005. Since he had been entirely sober, Festa sued Deputy Adam Teichner and Deputy Douglas Burgett for unlawful arrest.

On the day in question, Burgett had received a 911 call describing a vehicle similar to Festa's swerving. Burgett noticed Festa's car and claimed he saw it make a sudden lane change in order to avoid a car that had made an unexpected turn. He also noted that Festa, while not speeding, was varying his velocity. Burgett initiated the stop.

Festa explained to the deputy that he and his wife were in an unfamiliar area looking for a place to eat. He admitted that he had a single drink earlier in the afternoon. Burgett claimed he smelled a "mild odor" of alcohol. Deputy Teichner performed the roadside sobriety tests and brought Festa to the station for a breath test that registered .03.

"Unfortunately, I couldn't just let you go," Burgett told Festa in a court deposition. "You were under arrest for DUI."

Festa, who could add to his arrest statistics for the month, then explained how plea bargains would take care of the inconvenience done to Festa.

"Basically, once you were arrested for DUI, I made a determination from the conversations that we had between there and the jail that I was going to have this pled down to a reckless driving and then the reckless driving to a [nolle prosequi] so you would suffer no monetary damages or a record," Burgett said.

Instead of cutting a deal, Festa pleaded not guilty to both charges. The state eventually dropped the DUI charge and a judge tossed the reckless driving charge nearly a year later. The three-judge federal appeals panel found that the deputies were entitled to immunity for their actions while on duty because they had done nothing unconstitutional.

"No decision from the United States Supreme Court, this court, nor the Florida Supreme Court has clearly established that continued detention after an arrestee registers a breath-alcohol level of 0.05 or less is unconstitutional," the per curiam decision stated. "Indeed, neither the United States Supreme Court, this court, nor the Florida Supreme Court has established within what time frame nor under what circumstances an officer has an affirmative duty to release an arrestee. We therefore cannot conclude that Deputies Teichner and Burgett had fair warning that their continued detention of Festa was unconstitutional."

Festa died on May 9, 2010 while waiting for the case to be resolved. Festa was a successful businessman who earned a silver and bronze star during his service in Vietnam as an Army Ranger. A copy of the unpublished decision is available in a 70k PDF file at the source link below.

Source:

Festa v. Santa Rosa County (US Court of Appeals, Eleventh Circuit, 2/8/2011)
2/7/11
Olathe man injured in car collision on I-35 in Olathe, Kansas
Driver drifted onto the highway shoulder and collided with a parked car, leading to injuries and a trip to the hospital
A 21-year-old Olathe man was injured late last night when he collided with a car parked on the shoulder along Interstate 35.
Louis D. Rodriguez, who was not wearing a seatbelt, was taken to a hospital, according to the Kansas Highway patrol.
Rodriguez was headed north on I-35 about 10:50 p.m. Sunday when he drifted onto the shoulder and struck a car parked near the northern city limits of Olathe.
The parked car was unoccupied.
2/6/11
Johnson County, KS woman seriously injured by hit-and-run 18-wheeler in Overland Park, Kansas
Big rig driver claimed that he did not know his semi-trailer had hit a car - the highway patrol found him miles away from the accident scene on U.S. 69 highway in Johnson County.
Our Kansas City & Johnson County serious injury law firm has successfully handled a number of claims involving 18-wheelers, heavy trucks (such as dump trucks) and even transit buses.  We understand the physics involved with extremely large and heavy vehicles such as tractor-trailers and we understand that, even a small collision between a semi-trailer and a passenger car can have devastating effects for the drivers and occupants in the passenger car or pickup.
The 18-wheeler lawyers in our office understand how to get maximum compensation for the victims of these accidents and we work hard to get our clients back to where they were before the tragedy.  Our serious injury attorneys can obtain compensation for past medical bills, future medical expenses, past lost wages, future lost wages, disabilities, and pain and suffering.
An Overland Park woman was injured in a hit-and-run accident Sunday morning on U.S. 69 when a tractor-trailer rig changed lanes and struck her car.
The accident occurred at 6:43 a.m. on U.S. 69 at 87th Street. According to a Kansas Highway Patrol crash report, a 2006 Freightliner heading southbound on U.S. 69 made a lane change and struck the front corner of a southbound 1995 Toyota driven by Marilyn Smartwood. The impact forced the car into a concrete barrier.
The tractor-trailer rig continued south on U.S. 69 and was stopped by a trooper in Miami County. The driver, Fausto Mandujano, 44, of Kendall, Texas, told the trooper he didn't know he had struck the car.
Smartwood, 63, was taken to an area hospital. No information on the extent of her injuries was available. Both drivers were wearing seat belts, the Highway Patrol said.
2/5/11
Highway Patrol Troopers arrest man for driving under the influence (drunk driving) with an extremely high blood alcohol content (BAC)
The drunk driver registered .436 on a portable preliminary breathalyzer test (PBT) and .371 on an Intoxilyzer 8000 machine  
Our Johnson County, Kansas law firm's Overland Park driving under the influence lawyers often encounter police officers who truly believe that a certain BAC is "deadly," as this story claims.  Our DUI/DWI attorneys understand that the Troopers' opinion is flawed for a number of reasons. 
First, you have to look at this logically:   if "near death," then the man wouldn't have been able to open his car door, let alone drive without incident for a period of time.   This indicates that a certain BAC has a different effect on different people - some people are dangerous at .08, some are perfectly fine to drive. 
Second, the instruments/machines used to test blood alcohol content are not very accurate, and in some instances can give very inflated readings.   Our law office's drunk driving defense attorneys regularly challenge breath and blood test results to have them rendered inadmissible into evidence.  Our DUI/DWI lawyers do this by applying the relevant statutes, DUI/DWI case law, and the science of the instruments and apply them to our DUI clients' cases. Our driving under the influence lawyers regularly request Intoxilyzer 8000 maintenance logs and testing logs to see if the machine has malfunctioned or given erroneous readings in the past.
Third, certain illnesses or substances can cause problems with breathalyzer readings.  For instance, diabetics can blow numbers even without drinking.  Even bread will register a number on the Intoxilyzer 8000!!
An East Helena man arrested for driving under the influence early Wednesday morning tested with a blood-alcohol level of 0.436 percent — more than five times the legal limit and an amount that could cause death in some individuals.
Justice of the Peace Mike Swingley, a former Montana Highway Patrol trooper of 22 years, said this was the highest he has ever seen. The highest blood-alcohol level he had previously seen was a 0.409, he said.
"Usually by the time that happens the person is unconscious," Swingley added.
Trooper Ben Havron arrested Philip A. Pietz for first offense DUI after finding the 38-year-old man's truck high centered on a large rock in the entrance to a driveway on the 3600 block of Wildfire Road, according to Justice Court documents.
Havron said prior to getting stuck on the rock, Pietz had driven through several yards in the area, striking a tree and smashing through a few fences. An investigation into the incident continues.
"It was actually surprising how coherent he was. He was walking and talking," Havron said. "I knew he was impaired. He was obviously impaired. The way he was acting I would have thought he was about 0.15."
According to Havron, Pietz would not say how much he drank, only that it was "a lot."
Pietz was transported to St. Peter's Hospital where the initial breath test was conducted. About four hours after Pietz was assessed by medical personnel and deemed fit to be incarcerated, he was taken to Lewis and Clark County Detention Center, where another breath test resulted in a blood-alcohol level of 0.371 percent, court documents state.
According to Lewis and Clark County Coroner Mickey Nelson, there is no steadfast level on when alcohol ingestion becomes life-threatening.
"We start working about potential death at about 0.30," he said.
The jail's policy states that if anyone arrested for a DUI has a blood-alcohol level of 0.30 percent or higher, the person is taken by the arresting officer to the hospital emergency room for evaluation. The doctor will tell the officer when the person is stable enough to be incarcerated, according to Lewis and Clark County Sheriff Leo Dutton.
This happens "infrequently," Dutton said.
During an appearance in Justice Court Wednesday afternoon on the misdemeanor charge of DUI, Pietz tried to plea guilty. Swingley decided Pietz possibly remained under the influence and opted to have him enter a not guilty plea and appear again at a later time.
Pietz was released after posting $500 bond.
Thanks to helenair for the story
2/2/11
Court rules that red light camera owners/operators not responsible for the death of a motorist involved in a serious intersection accident
The camera had fallen on a Ford Mustang at an intersection after the mustang had toppled a light pole, crushing the Ford and killing one of the passengers in the Mustang.  
The North Carolina Appeals on Monday exonerated the owners of the red light camera that killed a twenty-four-year-old. The heavy device had fallen onto the Ford Mustang in which Elizabeth May was a passenger on May 17, 2007. May's family sued the city of Fayetteville, where the camera was located, and Affiliated Computer Services (ACS), the for-profit company that owns and operates the red light camera program.

The family argued that placing the camera in the median of the busy state highway 24 created a significant and avoidable danger because, had the red light camera not been there, May would still be alive. Prior to the accident, May had been doing shots at Secrets Cabaret with her friend, Danielle Polumbo. Polumbo and May got into the Mustang and at around 1am Polumbo misjudged the left-hand turn onto Sycamore Avenue and struck the pole. The red light camera tumbled onto and crushed the vehicle's roof, taking May's life.

Fayetteville's attorneys argued that they were not responsible because the accident occurred on a state road. The three-judge appellate panel agreed.

"We affirm the trial court's granting of the city's summary judgment motion," Chief Judge John C. Mart-in wrote in his decision. "First we note that the city owed plaintiffs no affirmative duty to keep N.C. 24 in a safe condition for plaintiffs' decedent... Municipalities do not generally owe any duty to individuals injured on roads that are part of the state highway system."

After an examination of the difference in contractual duties between the North Carolina Department of Transportation and Fayetteville, the court turned to the broader question of whether the city or the private contractor could be held liable given that May knew, or should have known, that she was putting herself in danger as passenger in a car with a driver who was obviously drunk.

"We hold, therefore, that, by voluntarily riding and continuing to ride with Ms. Polumbo under such circumstances and conditions as would have compelled an ordinarily prudent man in the exercise of ordinary care for his own safety to not ride with the 'appreciably impaired' Ms. Polumbo, Ms. May committed an act of contributory negligence which proximately contributed to her injuries and death as a matter of law, and which bars any recovery from ACS or the city for her death," Judge Martin concluded.
Thanks to TheNewspaper.com for the story
2/1/11
Jefferson County, Missouri moves to repeal red light camera contract three months after signing it due to insufficient safety results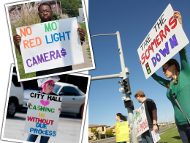 In October, Jefferson County, Missouri signed a contract with American Traffic Solutions (ATS) allowing the Arizona-based company to issue red light camera tickets in return for a cut of the profits. Now just three months later, the county council wants out of the deal. All seven members were unanimous in the desire to change direction, even signing a letter to lawmakers urging them to adopt a statewide ban on automated ticketing.

"It is very clear that red light cameras have not had a positive effect on safety in Jefferson County, as the proponents of the system promised five years ago," the council letter addressed to state Senator Ryan McKenna stated. "This is not a political statement, but one of common sense based on the statistics that have been provided. Therefore, it is the intent of the Jefferson County Council to ensure that the state laws regarding traffic enforcement currently in place are upheld and enforced, and that the people of unincorporated Jefferson County are ensured their due process and constitutional rights."

The council members are newly elected, entirely replacing the panel that had previously approved the red light camera contract. Activists with the group Wrong on Red, headed by former councilmen from Arnold, have been spreading the word about how accidents were not reduced in the first Missouri jurisdiction to implement automated enforcement.

"Recently, the Missouri Department of Transportation released its figures on a study regarding red light cameras in the state," the county letter explained. "While MoDOT Director Kevin Keith was quoted as saying, 'We believe automated enforcement is a good tool for keeping motorists safe,' the results in Jefferson County do not corroborate this claim."

Through November, cameras within the county issued 32,909 citations worth $3,109,900, with the ATS cut worth $1,031,039. In the city of Arnold, accidents nearly quadrupled at the photo enforced intersection of Richardson Road and Vogel Road. The best performance of any camera was seen at Rockport Elementary along Jeffco Boulevard where collisions declined from nine to eight. The county council will now hold a series of open meetings on repealing the ordinance that authorized the use of red light cameras.

Thanks to TheNewsPaper.com for the story